Cartoon Network Mobile Games



Take the FUN with you!
Download Cartoon Network mobile games today.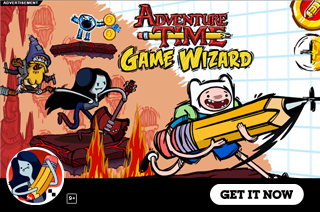 Mouseover image to see the screenshots
Adventure Time: Game Wizard
You're the legit WIZARD with powers to create your own game in the Land of Ooo, and then bring that creation to life on the Tablet screen!
THINK. DRAW. PLAY.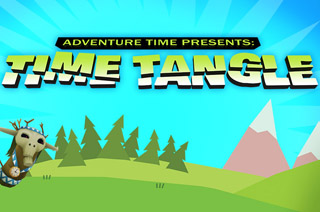 Mouseover image to see the screenshots
Time Tangle - Adventure Time
What time is it? Time to puncha some buns! Rip it up in Time Tangle!

PUNCH STUFF
Oh, snaps! Finn broke the Time Totem and junked up all of time. Now there's only one way to save the day... PUNCHING! Send your fists flyin' to restore order to the Land of Ooo.

INFINITE QUESTS
Battle bad guys, save peeps, collect sandwiches, and rebuild spacetime in a non-stop adventure. Thanks to the Time Totem's quest generator, the fun will never end!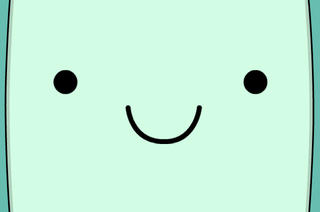 Mouseover image to see the screenshots
FYou wanted a Marceline soundboard, you got it! Listen to some of your favorite Marcy quotes in Beemo's soundboard for FREE!

Plus, thanks to our friends at MO Co., Beemo has been UPGRADED with new features!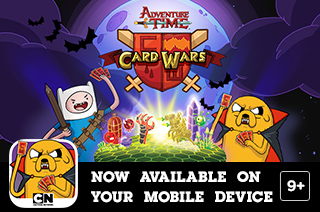 Mouseover image to see the screenshots
Card Wars - Adventure Time
Floop the Pig! It's Adventure Time CARD WARS! Play the game inspired by the Adventure Time episode, "Card Wars"! Summon creatures and cast spells to battle your way to victory.

CARD COMBAT!
Command an army of awesome warriors, including Husker Knights, Cool Dog, the Immortal Maize Walker, and even the Pig to destroy your opponent's forces! Place towers and cast spells to unleash ultimo attacks.

CUSTOM DECKS!
Collect new cards to customize your deck for each opponent. Level up your creatures, spells, and towers, or fuse them together to make your cards even more powerful.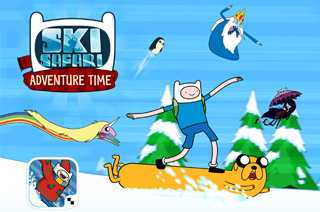 Mouseover image to see the screenshots
Ski Safari: Adventure Time
Adventure Time meets Ski Safari! Shred the slopes of Ooo with Finn and his friends in this endlessly fun downhill adventure.

SKI WITH YOUR BUTT
Slide your way through Ice Kingdom, Candy Kingdom, and the Mystery Mountains to outrun a relentless avalanche!

MATHEMATICAL COSTUMES
Dress Finn up like a zombie, put on his pajamas, go as Prince Hotbod, and more! Check out the shop for boosts, upgrades, and vehicles.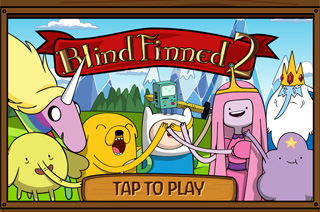 Mouseover image to see the screenshots
Adventure Time: Blind Finned2
Finn and Jake are back and this time, their blind-folded adventure takes a whole new direction! With the beloved BMO as your guide, help the unstoppable duo (well, they definitely won't stop until someone gets hurt!) reach the end of their journey through the Land of Ooo.

Slice away the opposition with Jake as your sword, unless the baddie forces you to Leap, Double Jump, and Roll your way to safety. Collect Gems to utilize the secret powers of power ups (such as the Jake Suit, the Magnet and the Extra Life) to make your journey easier. But be warned, because there are those who definitely will not be too keen on you traversing their lands!

And this time, your favorite Adventure Time friends join the fun! Say hello to Princess Bubblegum, BMO, Lady Rainicorn and more as they stand along the route to greet you on your journey. So come on and join the fun!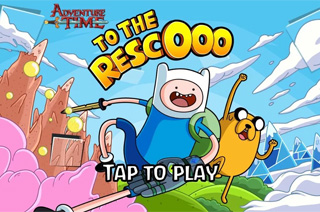 Mouseover image to see the screenshots
Adventure Time: Finn and Jake To The RescOoo
Puzzle your brain and test your mettle in Adventure Time : Finn and Jake to the RescOoo! Unravel the brain-twisting stages as you journey through the 5 kingdoms of Ooo on a quest to rescue the Princesses from the Ice King.

Travel the land of Ooo
From the Grass Lands to the far reaches of Lumpy Space, from the sweltering Fire Kingdom to the chilling peaks of the Ice Kingdom, can you survive all 50 stages?

Meet all your favorites characters!
Lots of your favorite Adventure Time characters are part of this action platformer puzzle game.

Equipment Options galore!
And check out the many different weapons waiting for you to help you on your quest.

So leap to the RescOoo and see if you have what it takes to help Finn and Jake!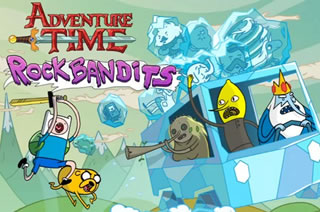 Mouseover image to see the screenshots
Adventure Time: Rock Bandits
What time is it? TIME TO ROCK! Help Finn and Jake rescue Marceline's stolen fans in Rock Bandits! Available for iPhone 4, 4s, and 5; iPad; iPad mini; and iPod touch 4 and 5.

20 HUGE LEVELS!
The Ice King and his band couldn't get any fans of their own, so they kidnapped Marceline's audience instead. Follow their tour across the Land of Ooo. Battle your way through the Dark Forest, Lumpy Space, Bad Lands, and the Ice Kingdom.

ROCK STAR BATTLES!
Use Finn's sword and Jake's stretchy powers to slash, smash, and bash the bad guys in this action-packed side-scrolling platformer. Punch some respect into Ice King and his band of evil. Battle Tree Witch's nasty nose, beat up Ash and his monster amp, and put the squeeze on the Lemongrabs!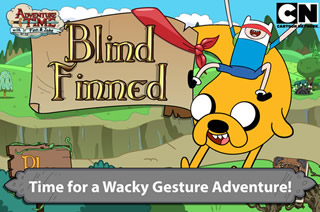 Mouseover image to see the screenshots
Adventure Time: Blind Finned
Finn is ready for another adventure! Unfortunately, he's off to try being a blind knight and it is up to Jake to watch his back… by running ahead of him.

Play as Jake a few steps ahead of Finn, keeping an eye out for any dangers Finn might not see. Transform into a bridge, a sword, or an umbrella to deal with each threat as they come. After all, Finn is having the time of his life as a blindfolded knight. Wouldn't you want to help him enjoy the day?

Explore Candy Kingdom, the Forest, and even the Ice Kingdom. Stay alert and keep Finn safe from any obstacles and threats along the path. How far can you go?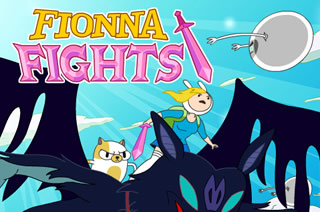 Mouseover image to see the screenshots
Adventure Time: Fionna Fights
FIGHT LIKE A GIRL!
Fionna, Cake, and Marshall Lee were on their way to Lumpy Space Prince's party when they got jumped by a pack of evil monsters! Looks like it's time to bust them up! Leap from enemy to enemy as you cut their army down to size!
UPGRADE YOUR BLADES!
Stay sharp with four different swords! Finn's golden sword offers a powerful dash attack, the root sword packs an explosive punch, Fionna's crystal sword fills the sky with crystal shards, and the demon sword destroys everything in its path!
CALL FOR BACKUP!Summon a knife storm, send in NEPTR's missile-blasting battle suit, or unleash the fury of the vampire king himself, Marshall Lee!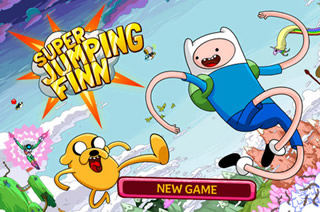 Mouseover image to see the screenshots
Adventure Time: Super Jumping Finn
The evil Ice King has kidnapped the Princess and it's up to Finn and Jake to rescue her.

The Ice King's Fortress is in the far away Frozen Land and the only way Finn will ever get there to rescue the princess is for Jake to kick him all the way. Launch Finn into the air with Jake's mighty kick and keep him flying through the air by riding shooting stars, getting a lift with Lady Rainicorn or getting a whack from Marceline's axe guitar. Watch out for those penguins though!

With each jump you earn stars that can be used to upgrade and unlock skills and characters to help Finn fly faster, higher and further! How far can you get Finn to fly?

Super Jumping Finn is another awesome game from Cartoon Network. You know what time it is… it's Adventure Time!
The Amazing World of Gumball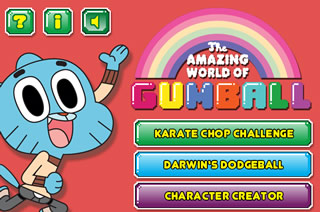 Mouseover image to see the screenshots
The Amazing World of Gumball: Mini Games
Journey into "The Amazing world of Gumball" and play games with all your favourite characters! Play the first amazing game for free!

*** Karate Chop Challenge ***
Play Karate Chop for FREE! Help Gumball chop his way through objects such as TVs, evil tree stumps and even cardboard crocodiles in his quest to become a Karate Master. Time your swipes to chop through objects, but make sure you don't miss or risk becoming a Karate Weiner.

*** Upgrade to unlock more awesome Gumball fun!

*** Darwin's Dodge Ball ***
Become the ultimate dodge ball champion with Darwin. Tilt the device to dodge balls. Tap to fire at the other characters as they run past. Collect special bonus shots, extra lives and time bonuses to help you set the best high score.

*** Character Creator ***

Let your imagination loose as you build characters using over 50 different body parts from the show. Take a photo of anything - your dad, your hamster, your house and transform them into your very own Gumball character. Share your creations with your friends by email Facebook or Twitter!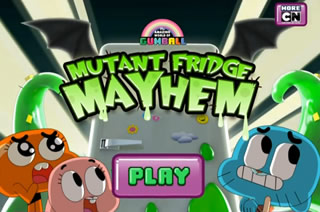 Mouseover image to see the screenshots
The Amazing World of Gumball: Mutant Fridge Mayhem
FOOD FIGHT! Team up as Gumball, Darwin, and Anais to take down the mutant leftovers! Available for iPhone 3GS, 4, 4s, 5; iPad; iPad Mini; and iPod Touch 3, 4 and 5.

DESTROY ALL LEFTOVERS!
Dad's expired jelly has mutated everything in the Watterson's refrigerator! Now Gumball, Darwin, and Anais are all that stand between Elmore and total mutation domination! Dish out the destruction across 30 different levels!

CHOOSE YOUR CHARACTER!
Switch between Gumball, Darwin, and Anais to defeat swarms of mutant food. Each character has his or her own special abilities. Gumball throws a rampaging temper tantrum; Anais uses the power of Daisy the Donkey to heal her teammates; and Darwin uses a bubble shield to block attacks.

MANLY POWER-UPS!
Man up! Give your characters manly mustaches to transform them into burly fighters. Or lock and load with the tennis ball cannon. That rotten grub won't stand a chance.

MUTANT FRIDGE MAYHEM - It's the ultimate food fight!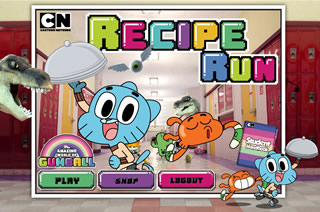 Mouseover image to see the screenshots
The Amazing World of Gumball: Recipe Run
Gumball and Darwin have made another infamous dish for Anais to try and the rest of the campus seems out to stop him! Leap, duck, and dash your way through the school corridors and collect every weird and wacky new ingredient you can for the perfect zaniest plate. But keep an eye on the crowd meter, or your run might end too soon!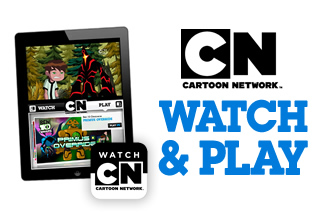 Mouseover image to see the screenshots
Cartoon Network Watch and Play
Now you can watch your favourite Cartoon Network shows and play Cartoon Network games, all in the same easy-to-use app! Simply turn your device to flip instantly between watching video and playing games. You can even use the split screen mode to watch and play at the same time!

Get Cartoon Network video and games anytime, anywhere with the free Cartoon Network app for your iPad.(MSG and Data rates may apply.)

WATCH VIDEOS from hit Cartoon Network shows like: Adventure Time, Regular Show, Ben 10, The Amazing World of Gumball, Chowder, The Powerpuff Girls Johnny Bravo and many more.

PLAY GAMES starring Finn, Jake, Mordecai, Rigby, Gumball, Ben 10 and more of your favorite characters.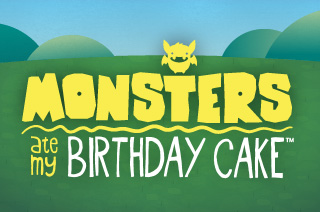 Mouseover image to see the screenshots
Monsters Ate My Birthday Cake
Warning: This game is crammed full of monsters, cake, amazing powers, puzzly bits, epic adventure, witty repartee, secret paths, unlockable characters, silly hats and a wiener dog. Use caution if you are allergic to fun or overly sensitive to cake-related pathos.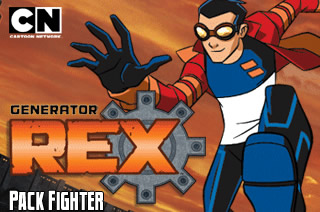 Mouseover image to see the screenshots
Generator Rex: Pack Fighter
Generator Rex Pack Fighter is a one-on-one versus fighting game.

Take on the role of Rex Salazar, an E.V.O. with the ability to control his nanites and fight members of The Pack, a group of E.V.O.s working under the command of Van Kleiss. With 3 cool weapons at your command it is time to to punish the Pack.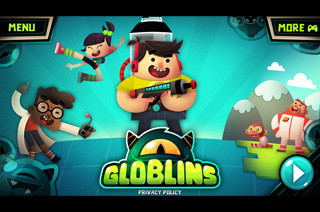 Mouseover image to see the screenshots
Alien globs are brainwashing your friends. It's time to burst their bubbles! Save the world from the inside out in GLOBLINS, a goo-busting PUZZLE GAME like no other!

POP THE INVASION!
You've never seen puzzles like this. Help Booster and his friends clear board after board of Globlin-infested brains. Add drops to grow creatures until they explode. Pop the Globlins to create killer combos and clear each level! Can you solve each puzzle without running out of drops?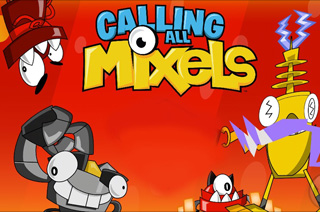 Mouseover image to see the screenshots
Brought to you by LEGO© and Cartoon Network
Rescue Mixels and use their unique powers to defend your turf in this mixed-up hybrid of action and tower defense!

MEET THE MIXELS
Mixels are unique creatures who live to combine! They love to mix with each other to discover powerful new abilities. They also love to mix together anything they find in their world. You never know what you might get with the right mix.

MIX YOUR MIXELS
Combine two of your favorite Mixels to unlock amazing new powers. Will you mix a fiery Infernite with a rock solid Cragster? How about a shocking Electroid? Create hybrid powers from cross-tribe Mixes, or combine three of the same tribe to make a massive Max!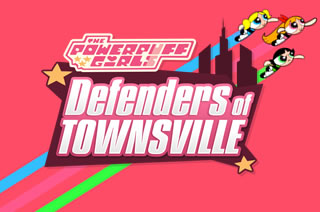 Mouseover image to see the screenshots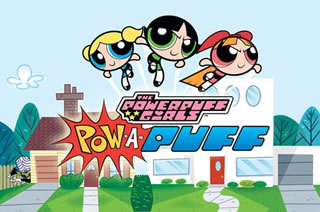 Mouseover image to see the screenshots
The Powerpuff Girls: Pow-A-Puff
The Gangreen Gang are taking over Townsville and need to be whacked!

In this fast, fun and frantic game, the green skinned teenage hoodlums are popping up everywhere - but a short, sharp, smack on the touch screen will sort them out. But take care, Bubbles, Blossom and Buttercup are also bouncing across the area, along with plenty of other favourite characters. Accidentally hitting one of the girls soon leads to game over. There are three areas in Townsville to play and you can compare your score with others across the world.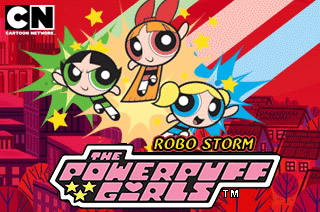 Mouseover image to see the screenshots
The Powerpuff Girls: Robo Storm
Play as one of The Powerpuff Girls in this action packed side-scrolling shooter.

Protect Townsville by battling Mojo Jojo's flying robots and the big bad monkey, Mojo Jojo, himself in a final show down. Collect 'Chemical X' pickups to give your powers a temporary boost.

So are you ready to Save the Day?!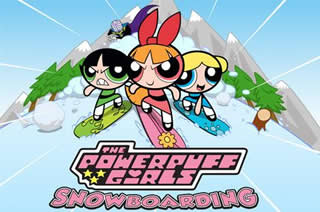 Mouseover image to see the screenshots
The Powerpuff Girls: Snowboarding
The city of Townsville... is snowing!

Join The Powerpuff Girls and compete in the 1st annual Townsville Snowboarding Championship. Grab your board hit the slopes and race to the finish line to become a Snowboarding Superstar... and all before bedtime.

Features:
- Play as all three super-skilled Powerpuff Girls
- Race on 20 fast paced and fun-packed slopes
- Use the touch screen to jump, duck and blast your way past obstacles
- Tilt your iPhone to speed up and slow down
- Battle evil villains like Mojo Jojo and Fuzzy Lumpkins
- Earn medals by completing time and score challenges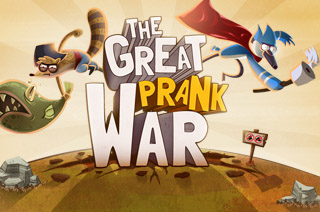 Mouseover image to see the screenshots
Help Mordecai, Rigby, Muscle Man and Skips take the park back from Gene and his goons with a plethora of prank-related powers!

A NEW SPIN ON REGULAR SHOW!
When Gene, the manager of rival park East Pines, gets his hands on a time machine, he goes back in time so he can win the prank war and take over the park. Now it's up to our heroes to take it back, but it won't be easy! The game also features awesome new character designs and animation styles for maximum prankiness.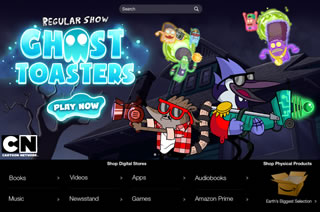 Mouseover image to see the screenshots
Regular Show: Ghost Toasters
Save the park from a ghostly invasion in this REGULAR SHOW PLATFORM SHOOTER! Gear up with the latest high-tech weaponry and toast some killer ghosts!

BATTLE HORDES OF GHOSTS!
Hot Dog Guy loves his hot dogs extra hot, with lots of ghost peppers. But when Mordecai and Rigby accidentally knock his savory snack into the graveyard, its supernatural spice summons an army of ancient ghosts.

PLAY AS 13 UNIQUE CHARACTERS!
Unleash a spooky smackdown with a huge variety of characters. Play as Mordecai, Rigby, Pops, Margaret, Eileen, Baby Ducks, Thomas, Skips, Muscle Man, Benson, Guardian of Eternal Youth, Gary and Techmo. Each character features a unique attack and upgradeable skill tree, and you'll need to master all of them to conquer the game.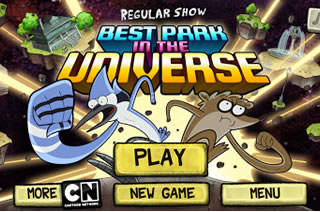 Mouseover image to see the screenshots
Regular Show: Best Park In the Universe
Ready for the BIGGEST BEATDOWN in the cosmos? Help Mordecai, Rigby and Muscle Man battle aliens, monsters and deranged park employees in Best Park in the Universe!

A BRAND-NEW ADVENTURE!
When Mordecai and Rigby agree to an offer to make the park the "Best Park in the Universe," they end up in the far reaches of outer space! Now they need your help to fight their way free and return the park to normal before Benson gets back.

A BIG BEAT 'EM UP THAT KEEPS GETTING BIGGER!
Enjoy hours of gameplay as you fight your way through 20 levels across 4 different worlds. And the game will just keep growing, with even more new content on the way in another FREE update!

Battle bad guys from across the galaxy in the BEST PARK IN THE UNIVERSE!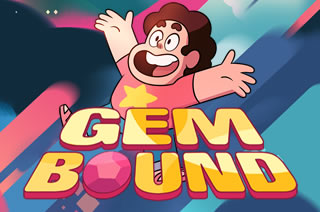 Mouseover image to see the screenshots
Gem Bound - Steven Universe
Steven Universe is getting a crash course in being a hero. Climb sky high, then smash your way back to earth in Gem Bound!

SKY HIJINKS!
Grab coins and avoid enemies as you bounce your way up to the stars. What goes up must come down! Use Steven's gem bubble to crash your way through magical monsters to earn bonus points on the way down.

GEM POWERS!
Call in the Crystal Gems for backup! Garnet gives you a super boost, Pearl showers you with coins, and Amethyst destroys everything in her path.


Data charges may apply. Availability subject to handset limitations and geographical location. Before purchasing this content, get your parents' permission first.